Counter Intuitive: Imaginative Ideas for Your Bathroom Countertops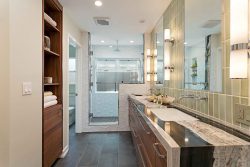 Countertops are one of the most important elements in the luxury bathroom remodel for your new home or whole home remodel. There are hundreds of ideas to choose from with materials and design that balance functional durability with enduring style. Here are some ideas to spark your imagination when you're dreaming of bathroom goals:
Waterfall Flow
In this modern bathroom awash in appealing textures a waterfall countertop in Copacabana polished marble makes an impression with bold swathes of color. Waterfall countertops like this one convey a feeling of drama and continuity in bathrooms of any style.
Uncommon Materials
The countertop in this vibrant master bathroom was created from the back of a limestone slab with an unusual texture created from pieces of quartz and a natural patina. Petrified wood handles emphasize the vanity's impression as a unique piece of furniture.
Old World Luxury
In this serene and glamorous retreat, stunning sandstone countertops are paired with dark walnut cabinetry for a balance of luxury and solid tradition.
A professional designer can help you explore the bathroom countertops that make the most sense for your lifestyle and inspire your home design. Our unified team of architects, designers, and construction professionals guides you through the process for every space in your new home or whole home remodel.