Make a Splash! Choose an Imaginative Bathroom Backsplash for Your New Home or Whole Home Remodel
The details of design are an important part of what makes your home feel comfortable and refreshing. A bathroom backsplash designed with innovative materials, patterns, or colors will make your space distinct and memorable. Whether your bathroom is modern, contemporary, traditional, or transitional, our professional design team helps you discover the colors, textures, and scale that best express your personal style. Here are some examples of imaginative bathroom backsplash design for your new home or whole home remodel: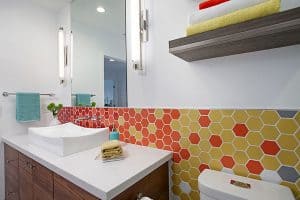 Rich Natural Texture
In the bathroom above inspired by Mid-Century Modern ideas, porcelain tile resembling planks from a rustic barn was meticulously designed in an intricate pattern of colors and texture that give the room interesting texture and depth.
Gradient Patterns
A gradient pattern in this modern bathroom creates an artistic flow of color in vibrant sunset hues. The backsplash continues along the entire wall of the bathroom, bringing appealing unity
to the space.
Vivid Color
The chartreuse wall of tile in this master bathroom alive with unconventional color gleams with three-dimensional texture. Balanced with earthy wood and industrial elements, the vivid color conveys bold creativity.
There are so many ways to make a splash in your bathroom! Working with our unified team of architects, designers, and construction professionals, your bathroom can make a design statement as individual as you are.