Bow WOW Spaces for Four-Legged Friends in Your Whole Home Remodel or New Home
Today we're celebrating National Dog Day with a look at designs thoughtfully planned for beloved companions. If a dog is a member of your family, our professional designers help you consider innovative ways to care for your pet in your whole home remodel or new home. Whatever the style of your home, your space can be organized, stylish, and pet-friendly with a few tail wagging ideas:
Glamorous Doggie Bath
This combination laundry room and doggie bath station in this mountaintop estate gives the clients a convenient, safe, and beautiful space to keep their beloved doggie cool and clean.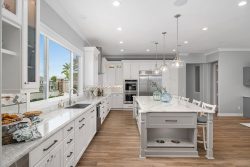 Convenient Feeding Station
With colors inspired by sea glass and sand dunes, this joyful coastal home was designed for a retired beach loving client and her cherished dog, Molly. A special station for Molly's food built into the kitchen island includes lighting to help the doggie see when she looks for her food or water late at night.
Clever Doggie Door
In this eclectic kitchen with a medley of details, a custom built doggie door was meticulously integrated in the cabinetry to allow easy and safe access for a treasured pet. The door can be concealed when not in use, keeping the kitchen streamlined.
Our 'best friends' make our homes more friendly and livable. Working with a unified team of architects, designers, and construction professionals, you can make your new home or whole home remodel as comfortable for your pets as it is for the rest of the family!