Straight to the Finish: From Polished Chrome to French Gold and Everything In Between
The finish of the hardware in the kitchen or bathroom of your whole home remodel or custom home is one of the details that make your home shine. Whether you arrive at one overall finish or decide to mix metals, a professional designer can give you expert guidance about how to best express your personal style.
Here are some examples of metallic finishes adding gleaming style to a variety of spaces:
Polished brass hits just the right note in the butler's pantry off the kitchen in this historical home balancing traditional and modern elements. Polished chrome adds a bright note in any room. In a Creative Modern Farmhouse kitchen, a polished chrome faucet shimmers in contrast with surrounding rustic elements, providing appealing visual balance. In a master bathroom imbued with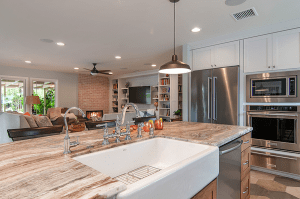 glamour, elegant French Gold was the ideal choice. A beautiful Victoria + Albert bath was a dream for the client but there were no options with French Gold feet. A master craftsman was called in to meticulously recreate the French Gold color.
Since hardware gets more use and traffic than most parts of a room, it makes sense not to treat it as an afterthought. Quality is of the essence. You'll want to look at finishes for your hardware in relationship to
the finishes of your cabinetry and your appliances. When you're using more than one metallic finish, the correct balance is essential to keep the overall room design cohesive. Mixing styles can be an appealing way to bring unexpected creativity to your space – traditional fixtures with modern cabinetry and vice versa. An expert designer can help you pull this off with aplomb.
Working with a unified team of architects, designers and construction professionals, you will be guided with thoughtful expertise through all the possibilities for adding polished style to your whole home remodel or custom home.