Tubs with a View: A Luxurious Space for Moms to Relax on Mother's Day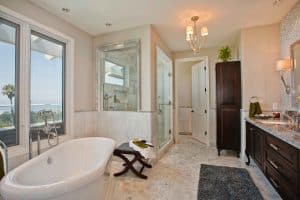 A long bath is a refreshing way to soothe the senses and spend time in reflection, especially when the view is beautiful and peaceful. On Mother's Day it's a well-deserved special treat. When you're planning the bathroom in your whole home remodel or custom home, the type of tub you choose is one of the first decisions you will make. If you appreciate the rejuvenating powers of a long bath, here is some inspiration for your master bathroom design:
Maximize the View

In the award-winning master bathroom above with amazing ocean views, the window placement was designed lower than usual and positioned for maximum visual effect. The built-in freestanding tub is defined with simple, elegant molding detail against the hexagon marble floor.
Design for Your Style
The graceful bath in this historical home with Spanish design influences fits perfectly in a traditional setting. The tub is designed to take advantage of the stunning natural vista right outside the windows.
Natural Light and Fresh Air
In this serene modern bathroom the tub was carefully positioned to take advantage of views, natural light, and circulation. Elegant pendant lights in a sensuous tube shape amplify natural light.
Our unified team of architects, designers and construction professionals will inspire both Moms and Dads with ideas for more comfortable, livable spaces. Choose the perfect tub for your lifestyle and give yourself a luxurious retreat on Mother's Day and every day!