A Warm Welcome for Visitors: The Fireplace in Your Whole Home Remodel
No matter the weather, and those of us on the West Coast often get a warm and sunny Thanksgiving Day, there's nothing like gathering around a toasty fire to bring comfort and good spirits to holiday celebrations. When you're planning to include a fireplace design in your whole home remodel, here are some ideas to consider.
Today's fireplaces are available in gas, wood, electric and outdoor variations. Materials for mantels and surrounds offer boundless opportunities for creative expression, from the traditional brick or stone, to glass, metal, wood, tile and more. It's essential to balance an exciting and distinct design with materials that make sense in the aesthetics of your home. A professional design team can guide you through your choices.
The fireplace will become a focal point in your space so it's important to think about what you want to include as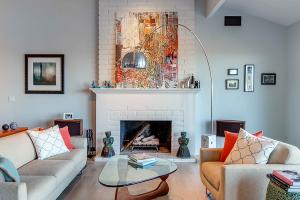 visual surroundings. Some homeowners choose to place the tv above the fireplace while others prefer to decorate with favorite pieces of art and sculpture. Orient some seating in your living space to fully enjoy the glow and warmth of the fireplace.
The ideal fireplace serves dual purposes as a stunning design statement in your space and a practical addition to your smart energy plan. Working with a unified team of architects, designers and construction professionals, you can discover the perfect combination of elements for a fireplace in your whole home remodel that will warm your heart!