Celebrate Earth Day Every Day! Consider Green Building and Sustainable Design for Your Whole Home Remodel or Custom Home
Yesterday was the 48th annual Earth Day, which is now the world's largest secular holiday, celebrated by more than a billion people each year. If you're committed to conserving resources for future generations, the principles of green building and sustainable design for your whole home remodel or custom home help you honor Earth Day every day.
Green homes have been trending upward for several years, with LEED-certified building certifications growing from 296 in 2006 to over 65,000 in 2017. The reasons homeowners most often cite for wanting a green remodel are: lower energy use, reduced water consumption, sustainability (less operating costs over time), and a sense of community. A beautiful energy efficiency example in a home JDR built is the custom appliance-grade gas fireplace in this Bird Rock cottage, a stunning centerpiece and an innovative, energy-efficient heating source for the entire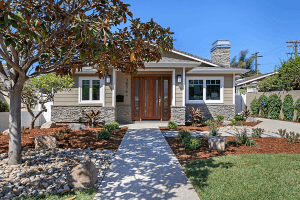 home.
No matter the style of your home, from traditional to ultra-modern, elements of green design can be incorporated from the beginning stages of the design build process.
Green and Sustainable Building Elements – Interior:
Smart home automation to save energy by controlling elements such as heat, electricity, and windows remotely
Low flow toilet and shower heads
High efficiency light fixtures, such as dimmer switches, LED lighting and motion sensors
Low VOC paint, non-toxic carpeting and non-toxic glues
Energy efficient heating, air conditioning and air quality systems
Recycled, upcycled and vintage pieces
Green and Sustainable Building Elements – Exterior:
Reused, recycled, and long life building materials.
Simple, site-specific design that integrates with its natural surroundings
Solar powered exterior landscape lighting
Energy efficient windows
Solar panels on roof
Water collection system
Solar Energy
Jackson Design and Remodeling was one of the first businesses in San Diego to retrofit our own building when we installed 175 solar panels on the roof of our Design Center and Showroom and we have years of experience in helping homeowners incorporate solar energy in their whole home remodels. Solar energy is constantly renewable and reliable, requires very low maintenance, and offers significant energy savings.
A green, sustainable home creates a sense of connection with your natural surroundings, your community, and the world. Our unified team of architects, designers and construction professionals committed to helping you create your dream green home. Several members of the Jackson Design and Remodeling team are Green Certified Professionals who are uniquely qualified to help you explore green building for your whole home remodel or custom home on Earth Day and every day.