Giving Thanks for Memorable Holiday Gatherings: Kitchen Design for Entertaining in Your New Home or Whole Home Remodel
When you're hosting Thanksgiving at your home, a well-designed and welcoming kitchen with high levels of design and functionality is something to be grateful for. If entertaining all year is important to your lifestyle you'll appreciate a thoughtfully designed kitchen with the details that make it ideal for welcoming friends and family. Here are some examples of kitchen designs that keep company in mind:
Innovative and Integrated Design
In the European Minimalism kitchen above, large family gatherings were an essential aspect of the couple's lifestyle. The unusual shape of the island was custom designed to accommodate frequent entertaining when the clients pull out a long table and extend it from the island into the dining room for more seating. A wall was removed between the kitchen and the dining space, dramatically improving the unity of the space.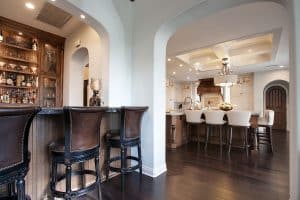 Expansive Traditional Style
The new design of this traditional kitchen unifies the space, creating a sense of welcoming expansiveness. The former breakfast room, seen through the arched doorway, is now a full wet bar, an ideal transformation for clients who frequently entertain. The new kitchen is a dream of expanded space and storage with the emphasis on balancing functionality with beautiful design.
Indoor/Outdoor Entertaining
The kitchen in this contemporary home was intentionally planned with no protrusions to emphasize openness to indoor/outdoor living and make the amazing ocean views a focal point. From a dazzling
custom designed bar and wine refrigerator indoors to a one-of-a-kind outdoor kitchen and gathering space, this stunning home is designed to entertain guests with style on any occasion and in any weather.
Working with a unified team of architects, designers and construction professionals, you will see your vision of the ideal kitchen come to life in your new home or whole home remodel. From special holidays to everyday living, your kitchen can be designed as an inviting and functional space where cooking and entertaining are a memorable experience for all.