Say Goodbye to Clutter: 3 Storage Ideas for Your Kitchen Remodel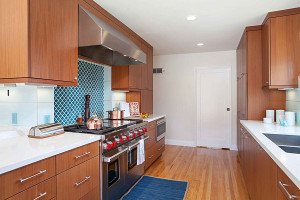 What distinguishes an "okay" kitchen from a fabulous one is the way the space works. When your kitchen is efficient and organized in addition to being beautiful, it becomes the welcoming heart of your home. Here are three ideas for storage in your kitchen remodel:
1. Smart Space Planning
An efficient kitchen starts with the layout. Professional designers help you with smart space planning to accommodate many levels and types of
storage. The kitchen shown above, designed with a Mid-Century Modern aesthetic, provides much more storage than the original design in a highly organized layout. Several large appliances are concealed behind the cabinetry to retain the clean and bright charm of the room.
2. A Stylish and Functional Pantry
Though they never truly go out of style because of their reliable practicality, pantries are making a comeback in recent years in fresh adaptions. The pantry (shown above) in a seaside home holds a colorful surprise of bright
color behind opaque glass doors.
3. Storage in Unexpected Places
Expert designers have the experience to find and create storage space where it might not seem possible to fit one more pot or pan. This cedar kitchen in a cabin-like home hides storage for the
home's prolific baker above the refrigerator.
When you love to cook and entertain, a functional kitchen is a daily delight. With the help of a unified team of architects, designers and construction professionals, you can discover a myriad of ways to streamline and organize your space.