Unfolding Laundry Room Style on #NationalLaundryDay
A laundry room designed with organization and beautiful details makes everyday tasks more enjoyable and efficient. Whether your style is ultra modern, colorful and quirky, or elegant and traditional, our professional designers can help you with a laundry room for your whole home remodel or new home.
This fun laundry room in a Colorfully Original historical home doubles as a doggie hideout. Vibrant wallpaper is an ode to the clients' beloved Daschunds. Ample storage makes it easy to keep the space organized and clutter-free.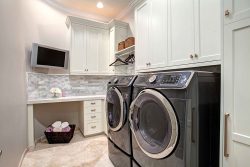 Luxurious materials, including a marble backsplash, define this refined laundry room. A subdued color palette gives the room a calm and spacious feeling, while a strategically placed TV keeps the clients company while they're washing and folding.
The laundry room in this historic home does double duty as a sewing room. If you have hobbies you'd like to accommodate, maximize your laundry room space to make your work more organized and inspired!
When you're planning your new home or whole home remodel with a unified team of architects, designers and construction professionals, you'll explore innovative ways to reflect your personal tastes and enhance your lifestyle. With a laundry room designed with attention to the details of visual appeal and modern functionality, everyday chores can be a serene time to reflect on your new environment with a sense of accomplishment and appreciation.