2021 Trend List: Hotel Amenities in Your Whole Home Remodel or New Home
After a year that saw global travel reduced significantly, it makes sense that one of the trends we see for 2021 is a desire for luxurious hotel amenities at home. From sumptuous master bedroom suites to outdoor living spaces with pools and outdoor kitchens, people are making the most of their time at home by creating vacation-worthy spaces under their own roofs and in their own backyards. Here are a few examples for inspiration.
Ultra Luxurious Shower
The extensive shower for two in a colorful historic whole home remodel has abundant natural light through windows looking out on a view of gorgeous natural surroundings. The shower floor is a completely custom hexagon tile pattern created with meticulous care to lend additional character to the classic black and white color palette. French gold fixtures throughout the space emphasize the attention to glamorous details.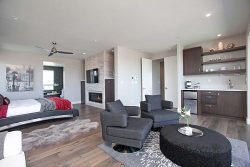 All Inclusive Master Suite
The expansive master suite in a minimalist home is a place the clients can relax in for hours, independent of the rest of the home. It's perfect as a retreat for today and as a plan for the future when travelling between levels might be inconvenient. A kitchenette contains fixings for coffee and refrigeration for snacks while a fireplace provides warmth and comfort for cozy evenings.
Poolside Outdoor Living
A vacation at home feels more complete with an outdoor oasis to enjoy. This mountain view estate encompasses an outdoor living space with a louvered roof next to a glittering infinity pool. Sheltered from heat during the day, or gathered around the fire pit as the sun sets, contented relaxation is inspired by panoramic views of rolling hills.
Creating space at home to take a vacation or just feel like you are on vacation makes your whole home remodel or new home into a relaxing retreat 365 days a year. Working with our unified team of architects, designers and construction professionals, you can discover the ideal elements to inspire a sense of renewal and adventure at home.