The Timeless Chic of Black and White Design for Your Whole Home Remodel or New Home
The simplicity and visual appeal of a black and white color palette never goes out of style. Black and white can be modern and bold or understated and classic. This time-honored color combination does require thoughtful planning and balance. Our professional design team can help you explore the many ways to creatively express your vision for your home with a tried and true design that will last for years to come.
Want it modern? Keep it simple.
The classic attitude of black and white gets a modern feel in spaces that are free from clutter, streamlined, and symmetrical. An infusion of natural light, along with a generous dose of greenery or natural woods, keeps the colors feeling fresh, light, and connected to nature.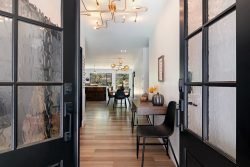 Warm it up with texture and metallics
Textures are essential with a black and white color palette to sustain a sense of visual interest and keep a space from feeling cold or bland. In the entryway to this modern family home, glittering lighting glows in black and white surroundings.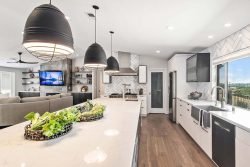 Use scale to up the drama
Intensify the graphic drama of black and white by experimenting with scale in the space. In this striking modern kitchen, a trio of oversized pendants and a 14' island set the stage for large festive gatherings.
Black and white spaces bring a definite sense of chic to your whole home remodel or new home. Our unified team of architects, designers, and construction professionals will help you discover how to best express your individual personality with this reliably dynamic duo.