What Colors Will Trend in 2019? Paint Companies Forecast Color in Your New Home or Whole Home Remodel
Color is one of the most important elements in your new home or whole home remodel. Color can add drama, calm, or energy to a space and the way a color makes us feel is deeply personal. It's always interesting to see what the leading paint companies choose as their Colors of the Year and the predicted color trends for 2019 have just been announced. When selecting colors for your home, it helps to have the guidance of an experienced designer to balance recent trends with your personal style. Many of the 2019 Colors of the Year share a connection to earth, sky, and nature, with one neutral gray as the outlier. Here's a look at this year's list:
Behr 2019 Color of the Year: "Blueprint"
Behr describes Blueprint as "an honest, approachable color that conjures up the blueprints builders rely on to bring architectural designs to life." We see this color working well on both interiors and exteriors.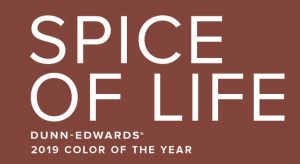 Dunn Edwards 2019 Color of the Year: "Spice of Life"
Dunn Edwards explains that Spice of Life, their 2019 Color of the Year is "warm, inviting, adventurous and life-affirming." This is a strong, earth-inspired hue reminiscent of the American West, natural motifs, and a bohemian attitude. Rich and spicy, this color blends harmoniously with both organic and elegant spaces.
Sherwin Williams 2019 Color of the Year: "Cavern Clay"
Interestingly, the Sherwin Williams Color of the Year is very similar to the Dunn- Edwards choice for 2019 shown above. Sherwin Williams also references a bohemian feeling for their color choice, describing Cavern Clay as, "Ancient, yet fully alive. Bohemian, yet totally refined." This color works well in spaces with a natural, organic design, and with earthy textures including woods, leather, and patterned textiles.
Benjamin Moore 2019 Color of the Year: "Metropolitan"
Last year Benjamin Moore chose a bold red as their Color of the Year; in 2019 their selection is much more neutral. Metropolitan, which Benjamin Moore describes as a stylish gray with cool undertones is, "Comforting, composed and effortlessly sophisticated. Not arresting nor aggressive, this understated yet glamorous gray creates a soothing, impactful common ground."
Dutch Boy Paints 2019 Color of the Year: "Garden Patch"
Focused on themes of community and "home as sanctuary," Dutch Boy selected Garden Patch as their 2019 Color of the Year and describes it as: "Not too deep and not too primary, this nostalgic, botanical hue stands out for its warm and calming effect. Paired with soft neutral and pops of warm colors, Garden Patch offers rejuvenation and peace at the end of the day in every room of the home."
Dulux Paint 2019 Colour of the Year: Night WatchDulux says Night Watch is a "versatile, deep green derived from last year's black trend, giving a nod to nature with an underlying urban sophistication." This is a nice color for those who enjoy a connection to nature in the color palette of their home but want a hue with some boldness.
Color strongly affects the way a space affects our perceptions. Working with our unified team of architects, designers, and construction professionals, you'll explore the colors that help you make a statement and express your personal style in your whole home remodel or new home.