Jackson Design and Remodeling is proud to share with you here some of the recognition we have received for award-winning home design, along with awards for our entrepreneurial spirit, service to the community and ethical business practices.
ETHICS AWARDS

DESIGN AWARDS

PROFESSIONAL AWARDS
2017, 2015, 2013, 2011, 2009 and 2007 Winner: Better Business Bureau Torch Award for Ethics
Six consecutive times (2017, 2015, 2013, 2011, 2009, and 2007) Jackson Design and Remodeling has been honored to receive the Better Business Bureau Torch Award for Ethics. (Winning companies must wait one year before they are again eligible.) The BBB's annual Torch Awards honor outstanding local for profit companies and nonprofit charitable organizations that have demonstrated a commitment to ethical business practices, both in operations and in terms of being ethical, reliable and responsive to employees, vendors and customers. The Better Business Bureau of San Diego, Orange, and Imperial Counties conducts this annual awards program to gain public recognition for businesses and organizations that maintain a solid commitment to ethical business practices.
"We have been honored to be recognized with multiple awards in our industry over the years, but winning the BBB Torch Award six times is the one we are most proud of,"said Todd Jackson, President and CEO of JDR. "We have a commitment to our clients and to the San Diego community to operate under the highest standards and to produce high quality results. The BBB Torch Award honors our entire team's commitment to always doing the right thing, even when we aren't being recognized for it. We'd like to thank the BBB for the significant work they do in our community, and for the distinction of receiving this award."
The BBB Torch Awards program recognizes and celebrates the long-term value of ethical business practices and the efforts made by outstanding businesses to ensure that the marketplace remains fair and honorable. The Torch Award affirms the talent and integrity of the JDR team, which strives at every level to ensure that the experience and service our clients receive is exceptional and leads to positive, life-long relationships.
2018 Finalist: Better Business Bureau International Torch Awards for Ethics
Jackson Design and Remodeling was named among a select group of finalists in the 2018 Better Business Bureau (BBB) International Torch Awards for Ethics. Regarded as one of the most rigorous and in-depth awards program for companies, the BBB International Torch Awards recognize businesses with best practices in leadership character and organizational ethics.
To be eligible for entry in the BBB International Torch Awards for Ethics, a business must first be a winner of their local BBB award program, which Jackson Design and Remodeling has achieved six consecutive times. Winners and finalists are selected by an independent panel of judges and evaluated against criteria including leadership commitment to ethical practices; communication of ethical practices; leadership practices to unify the organization; organizational commitment to performance management practices; organizational commitment to ethical human resource practices; and organizational commitment to the community.
2019 GuildMaster with Distinction
2018 GuildMaster with Highest Distinction
2017 GuildMaster with Distinction
2016 GuildMaster with Distinction
2015 GuildMaster with Highest Distinction
2014 GuildMaster with Highest Distinction
2013 GuildMaster with Distinction
2012 GuildMaster with Highest Distinction
2011 GuildMaster with Highest Distinction
2010 GuildMaster with Highest Distinction
2009 GuildMaster with Highest Distinction
2008 GuildMaster with Highest Distinction
2007 GuildMaster with Distinction
Each year, GuildQuality awards GuildMaster status to members with a demonstrated history of exceptional customer service. Jackson Design and Remodeling, Inc. is the only company in San Diego to receive this distinguished award. GuildQuality is an independent research company that surveys Jackson Design and Remodeling clients on the level of satisfaction they received from the start to the finish of their project. Based on our customer feedback, Jackson Design and Remodeling proves exemplary performance in quality of work and customer service, achieving a 98% customer satisfaction rating.
2018 Best of Houzz: Service
Jackson Design and Remodeling has been honored with Best of Houzz awards for Service for five consecutive years, from 2014 to 2018. Houzz is the leading platform for home remodeling and design, connecting millions of homeowners, home design enthusiasts and home improvement professionals. Service honors are based on several factors, including the number and quality of client reviews.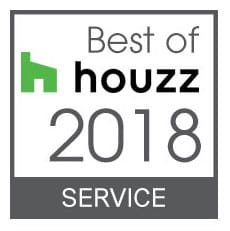 Visit Our Design Campus
The Premier Kitchen & Bathroom Showroom and Selection Center in San Diego
Learn about the latest trends in design build as you see and touch examples of the design sense, craftsmanship and thoughtful client care that go into all of our work.
Hours
Monday - Friday
8:00am - 4:30pm
Saturday: Visit Our Selection Center
10:00am-3:00pm
Let us help you with your remodel or new build!