Say Hello with Style: Step Up the Curb Appeal of Your Whole Home Remodel or New Home
Curb appeal remodels, which include the details of your home's fences and gates, driveway, landscaping, front door and exterior, bring added value and lasting enjoyment to your home. Curb appeal is all about the impression your whole home remodel or new home makes on passers-by, neighbors, visitors, and you. Here are some examples of how thoughtfully planned curb appeal brings impressive style to your whole home remodel or new home:
Architectural Choices: The architectural details of your home significantly influence overall curb appeal. For this home with a Spanish design influence, multiple arches creating a striking symmetry that gives the home grace and balance. Climate conscious landscaping adds lovely color and texture to the front of the home.
Character and Integrity
It's important to take the original character of your home into consideration when planning your ideal curb appeal. For this rejuvenating whole home remodel of a Mid-Century classic, the design stayed within the existing footprint and carried forward some of the distinguishing elements of its Mid-Century design. The roof's distinct shape was retained, replacing wood shingles with more durable composition shingles. Simple, bold pavers on the driveway create a striking welcome to the front door.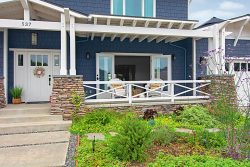 Welcoming Front Porch
Curb appeal was a significant architectural and design consideration for this beach home in a neighborhood with a lot of foot traffic. The clients enjoy sitting on their front porch and engaging with passers-by. The railing was planned at a lower height to make socializing easy and natural. Detail and depth strongly define the entry. Stone columns, beams, and a bold front door with exaggerated trim convey meticulous craftsmanship.
Meticulous curb appeal makes a lasting impression on visitors and gives you a sense of pride every time you arrive home. Working with a unified team of architects, designers, and construction professionals assures your home will be beautiful and original inside and out.