Welcome Home: Add Compelling Curb Appeal to Your Whole Home Remodel
Curb appeal is all about the impression your whole home remodel makes on passers-by, neighbors, visitors, and you. An exterior designed with conscientious attention to detail conveys pride in your home and its ongoing care. Ideally the exterior of your home should reflect the style and comfort found within. Here are some examples of how thoughtfully planned curb appeal brings impressive style to your whole home remodel:
Grand Entrance: The front door of your whole home remodel is a natural place to express your creativity. A memorable front door should balance visually by working well with the overall design of your home while making a statement of its own. A professional designer can help you explore unusual scale or color, atypical materials, interesting window placement, and out of the ordinary hardware.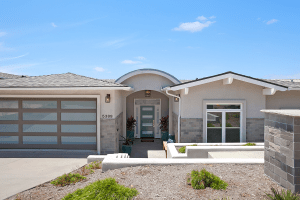 Architectural Choices: The architectural structure of your whole home remodel significantly influences overall curb appeal. This seaside home originally had a flat roof with little design detail. The new roof was designed with a slight pitch to add interest and a curved dome, created from a raw metal also used in the interior of the home, now emphasizes the front door. Creating a grand entry with architectural detail, the dome was meticulously measured to the highest height possible while staying within coastal design restrictions.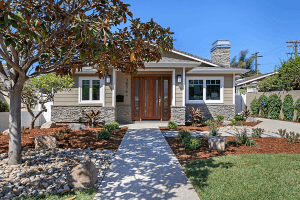 Balanced Materials: For this home by the beach, natural stacked stone is paired with weather-resistant composite siding in a subtle neutral, while white trim sets a high contrast that echoes the interior design. Guided by a talented team of architects and designers, you can discover how to balance materials in a way that makes the most sense for your home and its natural surroundings.
Meticulous curb appeal makes you happy every time you arrive home and adds lasting enjoyment to your whole home remodel. Working with a unified team of architects, designers, and construction professionals assures your home will be beautiful and original inside and out.