A Cool Breeze: Ceiling Fans in Your Whole Home Remodel or New Home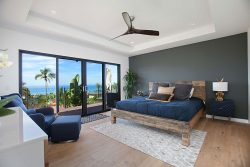 Ceiling fans are a smart choice for San Diego's climate, bringing comfort and style to your whole home remodel or new home. In addition to amplifying circulation and making your space feel cooler, this seemingly simple element can encompass innovative design and function. Downrods can be adjusted according to ceiling height and most can be used on a sloped ceiling. We love the added ease of fans with both a wall control and a remote control. Here are some ideas for inspiration:
Seaside Breeze
Where a soffit was added to the ceiling in this master bedroom with enviable views of the ocean, a ceiling fan with Mid-Century Modern influenced design keeps the sumptuous retreat comfortable day or night.
Modern Flow
In this modern kitchen which plays with the concept of "positive" and "negative" space by contrasting timeless black and white, a "two fans in one" ceiling fan has an appealing industrial style.
Fresh Air Outdoors
This extraordinary outdoor space feels like an extension of the interior while possessing its own distinct character and elements that assure comfort in any weather. Recessed infrared heating panels provide heat when and where needed. The louvered roof can be adapted to any level of sun or shade. The fan here is flush mounted fan to accommodate the lower ceilings.
When you work with a professional designer, every detail of your whole home remodel or new home is carefully considered to balance beauty and function. Our unified team of architects, designers, and construction professionals guides you through the design build process as you see your dream home come to life.