Designing in Black and White: A Classic Color Palette for Your Whole Home Remodel
Simple and classic, a black and white color palette has lasting appeal in your whole home remodel. Unquestionably stylish, this timeless color combination requires thoughtful planning and balance. Our professional designers have explored a myriad of possibilities for establishing a unique point of view in black and white.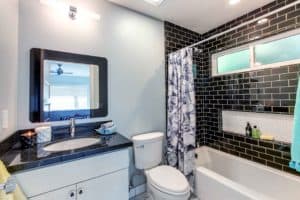 Restraint and Balance
Modernize the classic attitude of black and white by keeping a space streamlined and symmetrical. An infusion of natural light keeps the colors feeling fresh and light.
Mix in Texture and Pattern
Compelling textures are essential with a black and white color palette to sustain a sense of visual interest and keep a space from feeling cold or bland. This bathroom in a coastal home gleams with glossy subway tile in a fresh pattern.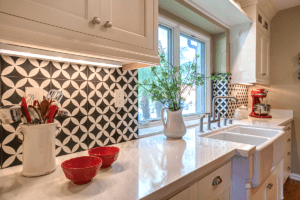 Accessorize with Extra Color
Intensify the graphic drama of black and white by experimenting with bright pops of color from accessories. Pops of vivid red make the bold backsplash in this historical kitchen even more striking.
Carefully designed black and white spaces can bring a chic attitude to your whole home remodel. Our unified team of architects, designers, and construction professionals will help your explore how to best express your individual personality with this dynamic duo of color and style.