The Hearth of the Home: Fireplace Design in Your Whole Home Remodel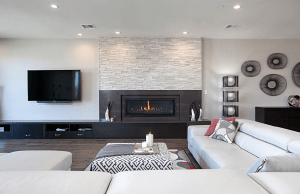 Even on sunny San Diego days, the evenings often bring enough of a chill to encourage gathering around a comforting fireplace. As fall holidays approach, the appeal of a warm and glowing fire in the hearth grows stronger. When you're planning to include a fireplace design in your whole home remodel, here are some ideas to consider.
Hot Style Concepts
Materials for mantels and surrounds range from traditional brick or stone to glass, metal, wood, tile and more. It's essential to balance an exciting and distinct design with materials that make sense in the style of your home.
Sometimes an existing fireplace can be completely transformed with significant design attention. In this Modern Farmhouse, the hearth was lowered and the fireplace was refaced by wrapping it up to the ceiling with Arbutus stone. Extra thick grout joints convey a natural, rustic feel and the fireplace is now a magnificent visual centerpiece. A professional design team can guide you through your choices for scale, color, and textures.
A Glowing Focal Point
A fireplace is a natural focal point in any space, bringing attention to immediate surroundings. Some homeowners choose to place the tv above the fireplace while others prefer to decorate with favorite pieces of art and sculpture. In this coastal home, a large brick pop-out built
around the existing fireplace and painted white established a striking visual element. The clients are art lovers who appreciate how the fireplace design places an emphasis on art and objects in the space, including one of their favorite paintings.
Working with a unified team of architects, designers and construction professionals, you can discover the perfect combination of materials, scale, and style for a fireplace in your whole home remodel that will grant a cozy warmth to you and your guests in any weather.