A Home Office That Does a Good Job in Your Whole Home Remodel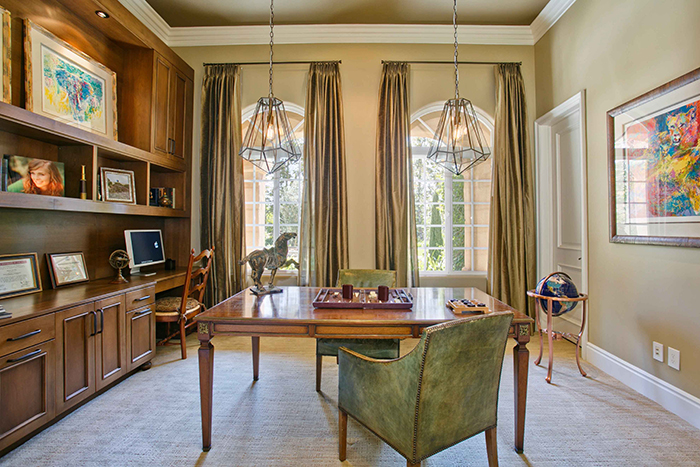 With the multi-tasking lifestyles of today's families and the increased tendency to work outside of a 9 to 5 routine, an office has become an essential element in many modern homes. Whether you choose to create a separate room for an office in your whole home remodel or to find a place within your existing home to strategically place a workspace, here are some ideas to keep in mind:
1. Space Planning
An efficient and appealing home office starts with thoughtful space planning. The layout should be determined by how you will most use the space: will you be sitting at a computer most of the time, or will you be writing or having meetings at a desk? Home offices also require careful consideration of electricity and lighting to accommodate various tasks. A professional design team is particularly helpful in the crucial space planning phase of designing your home office.
2. Choose Your Focal Point
While significant work takes place at this home office in an oceanside condo, the client wanted to enjoy his spectacular views at the same time. Is there a view in your home you would like to take advantage of for your home office space? Perhaps the focal point in your office will be a striking piece of furniture or art. Choosing a visual focus organizes and sets the tone for your office.
3. Integrate the Design
If you are borrowing space in a kitchen or hallway for your home office, you usually want the option to conceal your work area when it's not in use. This kitchen design integrates an innovative wall cabinet to store supplies for a mini home office that can easily be hidden when guests arrive or it's time for dinner!
Your home office should be as carefully and imaginatively designed as every other area in your whole home remodel to assure a consistent look throughout your space. Have fun collaborating with our unified team of architects, designers and construction professionals to create a space that works for you