It's Time for April Showers! Today's Shower Designs for Your Whole Home Remodel are Awash in Customized Style
A sumptuous shower in your master bathroom transforms a daily routine into a rejuvenating experience. When planning your whole home remodel, consider how designing your master bathroom as a luxurious home spa could make a difference in your lifestyle.
Big and Bold Scale and Color
Luxury showers impress with scale, providing ample space for special features including seating, niches, and specialty shower sprays. Integrating a window into a shower design brings rejuvenating natural light and circulation, while exciting colors intensify the visual experience. The past few years
have seen a trend toward open showers, especially in modern homes, and more people are choosing a large shower in place of a tub.
Soft Drizzle to Powerful Downpour
The design of a luxury shower typically includes a selection of customized options encompassing a fixed showerhead, plus several body sprays, all with the option to adjust stream and spray styles. For example, rainheads create a spray evocative of a powerful downpour while a mist-spray showerhead is softer and more tranquil. Many of today's showerheads also offer options for low-flow to conserve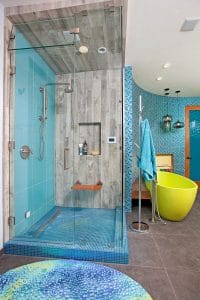 precious resources.
Designed for Your Lifestyle
Your shower can be custom designed to make your daily ritual truly unique. Presets for shower sprays, aromatherapy, temperatures, music, steam and water use allow for an individual experience every time you step into your spa-like shower at home.
Our unified team of architects, designers, and construction professionals overflows with ideas for your whole home remodel, including details like the shower you choose for your bathroom design.