Charming Retro Kitchen Remodel is a Fresh Take on the Past
The most successful whole home remodels and kitchen remodels are authentic expressions of your personal tastes rather than imitations of current trends. The retro kitchen remodel we recently completed is a perfect example of how our professional design team works with clients to help them achieve a unique personal vision for their homes.
The design process encompasses a thorough evaluation of what you love, what you need, and how those qualities can be balanced to achieve a kitchen remodel or whole home remodel that feels functional, comfortable and visually memorable. This amazing retro kitchen pays tribute to the past with a decidedly modern attitude. Here are some of the elements that make this kitchen shine:
Varying shades of yellow contrast with black and white for a cheerful, bright and graphic color palette.
The playful positioning of contrasting tiles on the floor presents a modern interpretation of the classic checkerboard pattern.
A boldly retro yellow stove is a centerpiece in the room, drawing attention with its vintage arched top and chrome fixtures. All other major appliances in the kitchen are also of retro design in a matching yellow shade.
Gleaming curves of black tile trim against the soft yellow tile of the countertop define the lines of the kitchen with classic style. Simple white cabinetry is designed to fit the retro aesthetic while providing the abundance of storage expected in a modern kitchen.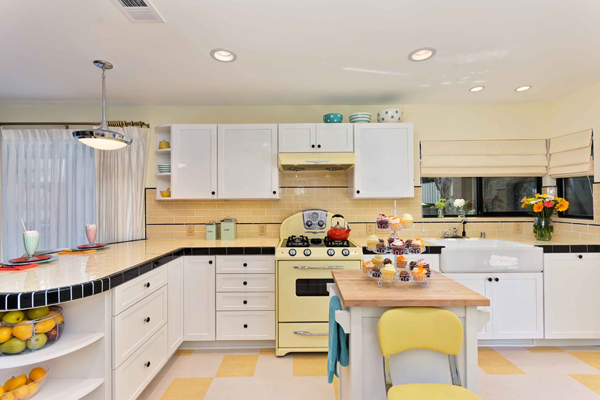 If you are a fellow enthusiast of the retro feel or an appreciator of a more modern or traditional look, a unified team of architects, designers and construction professionals provides expertise, inspiration and guidance to create a kitchen design or whole home remodel that works for you, your family and your lifestyle.