Is it a Kitchen or Isn't it? Integrate Your Kitchen Remodel in an Open Floor Plan for Your Whole Home Remodel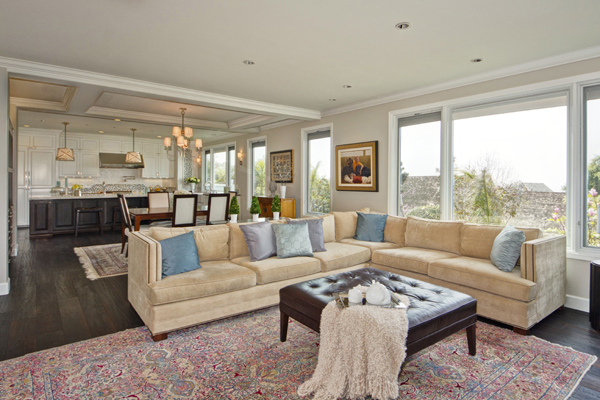 Many of today's whole home remodels have an open floor plan instead of separate areas for a living room, family room, dining room and kitchen. A professional design team recognizes the importance of defining each area visually in an open floor plan while integrating them as a unified whole. When your kitchen remodel is included in your great room, here are some ways to ensure a balance of functionality and aesthetic appeal:
Cabinetry:
Custom cabinetry designed to align with the style of furniture elsewhere in your home helps the kitchen feel less like a workroom. At the same time, the cabinetry can cleverly conceal all the modern appliances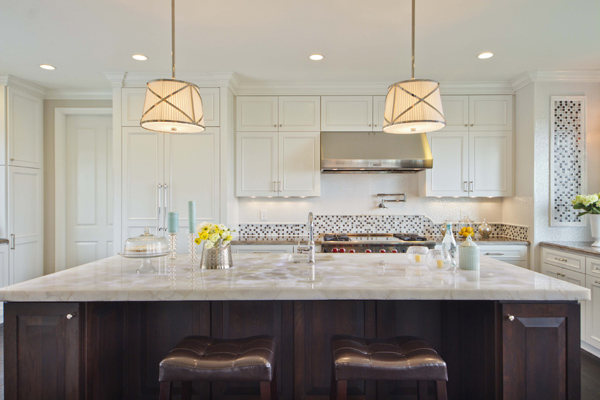 that make contemporary kitchens more efficient. The exceptional island shown here is an elegant, furniture-like piece that would be at home anywhere in the house, not just the kitchen. The state-of-the-art countertop is created from Caesarstone "Concetto", a manmade material composed from pieces of quartz. The countertop is lit from within, creating a seductive glow at night.
Lighting:
Challenge the typical in your kitchen remodel by making an unconventional lighting choice. Lighting with shades or elegant chandeliers that are usually expected in a living area spark the imagination and make the kitchen feel less utilitarian.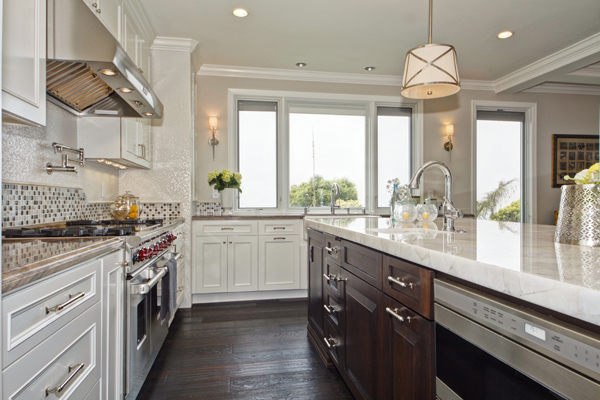 Layout:
Space planning is essential in a kitchen that is open to rest of your living area. A professional designer can help you determine the most effective organization for your kitchen based on key questions about how you will most often use the room. Whether your focus will be on family time, elegant entertaining, or cooking and baking, the layout of your kitchen will make all the difference in your daily enjoyment of the space.
If you are attracted to the idea of living with expansive, open spaces in your whole home remodel, a unified team of architects, designers and construction professionals can help you find ways to create comfortable and defined areas so that your living, family,dining areas and kitchen each have a distinct sense of place.