New Ideas for Kitchen Remodeling: Glazed Lava Stone Countertops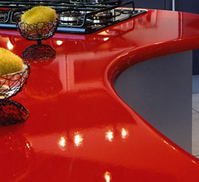 Our design team is excited about the many possibilities presented by glazed lava stone as a design element in kitchen remodeling. Pyrolave, an international company specializing in "the art of worktops", creates glazed lava stone by extracting Volvic lava from the Nugere crater at the center of volcanoes in Auvergne, France. Blocks of lava are removed by hand, cut into slabs, and glazed with enamel by expert engineers. Enamels are selected for their beauty and for their resistance – they must be resilient enough to withstand being fired at more than 1832°F. During cooling, delicate cracks (or "crazing") appear on the surface, giving each piece a distinct and naturally beautiful signature.
There are several reasons why glazed lava stone appeals to our design team and our clients:
Adaptability: Glazed lava stone works for contemporary or traditional aesthetics. It is highly adaptable to its environment. In addition to kitchens, the material is also used in architectural projects, in bathroom design and in indoor/outdoor furniture.
Durability: Because of its unusual resistance, even acids or corrosive products do not alter glazed lava stone. The material is resistant to heat, stains, acids and bleach, scorches, and frost, and is UV stable (meaning its color will not fade.)
Originality: With its unique shapes and vibrant colors, glazed lava stone makes a definitive statement of individuality in your kitchen remodeling project.
Working with an expert team of architects, designers and construction professionals, you can rely on experts who are leaders in their field. We love to explore the latest trends and ideas for kitchen remodeling and share them with you!