Your Own Private Island: Kitchen Island Design for Your Whole Home Remodel
The central focal point of many kitchen designs today, an island makes a strong visual impression. Working with a team of professional designers who are experts in the many options available and understand how to customize design to best express your personal style, you can arrive at the ideal kitchen island design for your whole home remodel. Here are some considerations:
Space Planning and Organization:
Some families like to eat at the island for casual meals. Others want plenty of storage and function for cooking and entertaining. Successful design starts with understanding functionality and space planning. In this kitchen with a design inspired by the architectural integrity of the home, it was essential that the island 
feel more like a sculptural work of art than a typical island. Pendants above were avoided and a niche in the corner of the island is an innovative space for displaying treasured objects.
Choosing the Right Scale:
An unexpected scale is a design decision that brings visual interest to the room. The smaller scale of the island in this kitchen was selected for newlyweds who liked the idea of having enough room for just the two of them to have morning coffee together at their island, while more formal meals are saved for the adjoining dining space.
Materials, Textures, and Colors: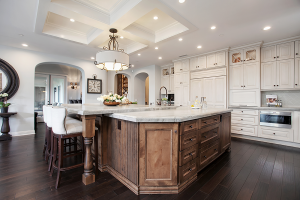 When selecting from the hundreds of ideas for materials, textures, and colors, decisions should be a balance of function and style. Will marble stand up to the amount of kitchen prep you will be performing on a daily basis or would quartz be a better choice? Do you want a natural look that would best be achieved with wood or granite? How about using color as a statement? Combining several elements, the substantial island in this traditional kitchen is topped with a distinctive granite slab. The alder wood is burnished with a deep stain and includes rich details such as the traditional turned legs and bead board.
Whatever the design of the kitchen in your whole home remodel, the island functions as a memorable gathering place and central focal point. A unified team of architects, designers and construction professionals guides you to the right choices in design, scale, and materials for your lifestyle.