What's in Store for the Holidays: Kitchen Pantry Ideas for Your Whole Home Remodel or New Home
The holiday season inspires cooking and baking adventures and an organized kitchen makes the experience even more joyful. A generous pantry in your kitchen design makes for a clutter-free space appreciated by home chefs and those who like to keep their homes orderly and streamlined. Here are some ideas for pantries when you're considering one for your new home or whole home remodel.
Woodland Minimal
In this warm and welcoming Woodland Modern kitchen a pocket door elegantly slides open to reveal a generous pantry with ample storage space and thoughtfully designed lighting. Designed for a retired couple who plan to pass the home they've lived in for 30 years on to their daughter, this kitchen inspired by its forested surroundings balances cabin-like warmth with crisp modern design.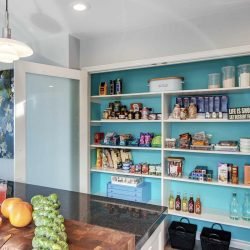 Beachside Blue
A splash of unexpected color is an imaginative way to add style to your storage. In this classic and sophisticated beach home kitchen, a bright blue echoing the home's seaside location is a whimsical touch in a room with mostly subdued hues. The color is only revealed upon opening the pantry's opaque glass doors.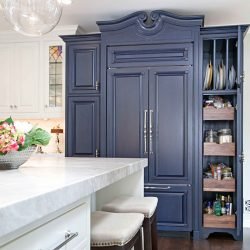 Traditional Style
In this Fresh Tradition kitchen, storage is now abundant and organized and new modern appliances were added throughout. A navy blue walnut cabinet with intricate detailing reminiscent of the home's historic origins conceals the refrigerator and side pantries while establishing an impressive focal point.
Well-designed storage integrated with expert space planning makes cooking, baking, and entertaining more enjoyable no matter the season. Our unified team of architects, designers and construction professionals will help you explore your options and discover the ideal pantry design for the dream kitchen in your whole home remodel or new home.