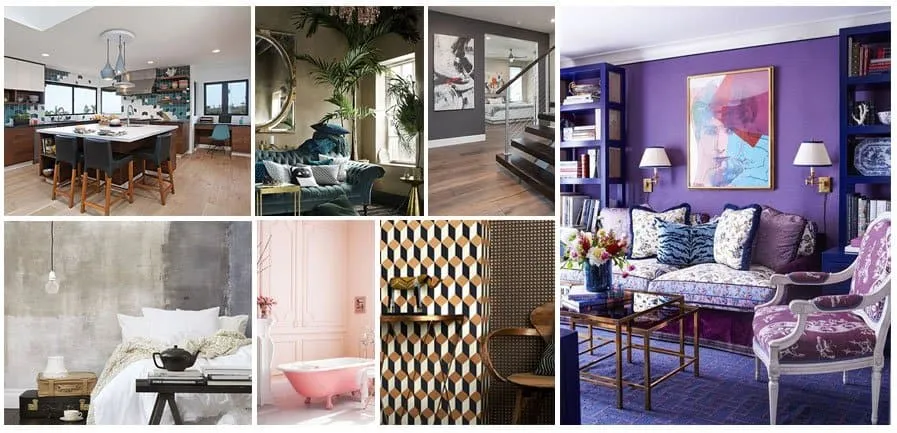 Designers Reveal the 18 Top Interior Design Trends for 2018: Jackson Design and Remodeling's Team of Designers and Architects Say Vivid Colors, Rich Textures and Bold Geometric Patterns
Velvet is back and it's better than ever
(San Diego, Calif– December 15, 2017) – Today, the unified team of architects and designers at Jackson Design and Remodeling released their list of the Top 18 Interior Design Trends for 2018. With the 2018 Pantone Color of the Year recently announced as Ultra Violet, this year's trends encourage homeowners to explore bold, intense colors that express their creativity. This trend of personalized, beautifully imperfect design gives homeowners the nod of approval on mixing design styles and combining textures and colors. Other top trends are Japanese inspired "Wabi Sabi," experimental wallpaper, and woods texturized with innovative techniques.
"In 2017 we saw a return to nature with increased greenery, clean lines and neutral color palettes focused on raw, natural elements," said Tatiana Machado-Rosas, Design Department Head and Senior Interior Designer at Jackson Design and Remodeling. "In 2018 we'll see deep, intense colors, complex textures, darker woods and vintage metals. The resulting spaces are rich and luxurious but still demonstrate simplicity, favoring uncluttered, clean lines and fewer (but more rich and elegant) furnishings and accessories."
Each December, Jackson Design and Remodeling's highly acclaimed design team, which has been featured in major national print and online publications including Dwell, HGTV and Architectural Digest forecasts the trends they see emerging in design and remodeling for the coming new year. Their top 18 trends for 2018 are:
Casual Imperfection: Inspired by the ancient Japanese philosophy of "Wabi Sabi," which finds beauty in imperfection, this trend emphasizes relaxed style with minimal, high quality elements.
Dark Intensity and Contrast: 2018 color palettes will be strong, deep, and bold, including blacks and grays, blues and greens, oranges and reds. High contrast colors, including timeless black and white, are a recurring theme.
Pantone Color of the Year – Ultra Violet: Described as 'A dramatically provocative and thoughtful purple shade,' Ultra Violet expresses a fascination with what's possible, both here on earth and in the cosmos.
Nordic/Scandinavian Style: Originally designed to convey coziness in the coldest climates, the warm, modern feel of Nordic/Scandinavian style has staying power in today's homes.
Mixing Textures: The balance of opposites continues to spark visual interest, pairing marble and wood or glossy surfaces with matte.
Minimalist Luxury: There's creative freedom in designs balancing simple, open, light-filled spaces with carefully selected beautiful objects.
Home Galleries: Curated spaces in the home, from large walls of gallery images to compelling miniature vignettes of treasured collections, bring an artistic and deeply personal feeling into the home.
(Millennial) Pink and Lavender: Millennial Pink is still going strong into 2018, with lavender catching up as a youthful expression of vibrancy and energy. Combining the two, lilac is popping up as a pretty shade.
Vivid Velvet: This lavish material is adding luxurious softness to home design this year and in every color on the spectrum, with bright turquoise, purples, greens, and reds some of the most seductive.
Ways with Woods: Dark woods are making a comeback, including Rosewood and Walnut, while techniques such as charring and cerused wood reveal complex color and texture.
"Invisible" Kitchen: In expansive open homes, a kitchen that seamlessly integrates visually and functionally is a hallmark of today's smart design.
Soft and Warm Color Palette: Again emphasizing individuality this year, some palettes are the complete opposite of the Dark Intensity trend, presenting comforting, warm, cozy neutrals and soft pastels as an alternative.
Mid-Century Style with a Modern Edge: Retaining the best elements of original Mid-Century design while introducing modern functionality and purpose is the defining element of some of today's most stylish homes.
Experimental Wallpaper: Wallpaper in 2018 isn't relegated to one wall or a powder room; it is making an impact throughout the home, from floral and botanical prints to geometrics, marbles, and "illusion" designs.
Haute Bohemian: Rejecting conformity, this is a decidedly individual, eclectic style paying homage to the home's surroundings, the architectural period, and daring offbeat style.
Natural Growth: As technology continues to permeate our lives, fresh greenery and plants in the home are becoming ever more important.
Geometrics Galore: From backsplash tile to flooring, wallpapers to area rugs, the orderly appeal of geometric patterns has fully arrived.
Shimmer and Shine: A splash of Brass, Gold, Vintage Nickel and Titanium fixtures allows homeowners to express creativity in the important details of kitchen and bathroom design.
To view images of the 2018 design trends, visit Jackson Design and Remodeling on Pinterest.
About Jackson Design and Remodeling
Jackson Design and Remodeling has served the San Diego community since 1989, providing clients with new custom homes, whole home remodeling, kitchen remodeling, additions, outdoor living spaces, high end bathroom remodeling, and other home design build projects. Todd Jackson, President and CEO, has established an enduring tradition of quality and service in the industry. Jackson and his team have won numerous awards for their work, including hundreds of CotY, Chrysalis, ASID, NKBA and Master Design Awards as well as six consecutive Better Business Bureau Torch Awards for Ethics. For more information, visit www.JacksonDesignandRemodeling.com, call 858.348.5195 or follow us on Pinterest, Houzz, Facebook, Instagram and Twitter.