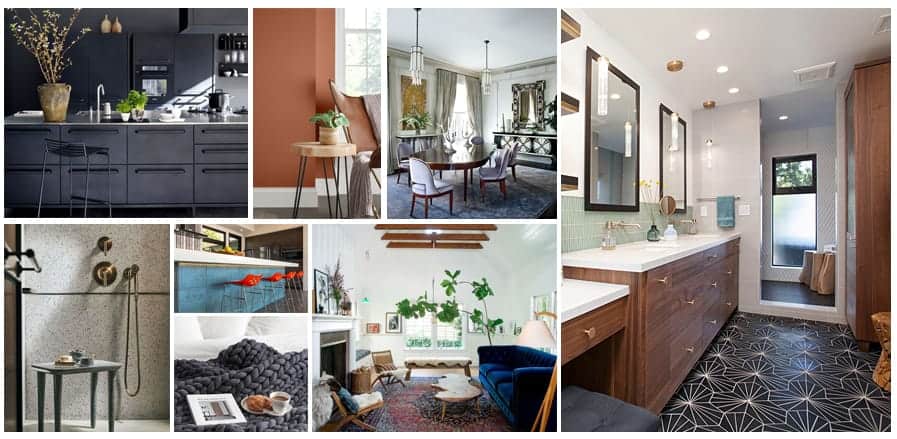 12 Top Interior Design Trends for 2019: Jackson Design and Remodeling Predicts Moody Kitchens, Cozy Comfort and Natural Hues will Lead Home Designs in New Year
Art Deco takes the spotlight from Mid-Century Modern
(San Diego, Calif. – December 1, 2018) – Today, the talented team of architects and designers at Jackson Design and Remodeling released their list of the Top 12 Interior Design Trends for 2019. Next year's trends suggest two distinct approaches for home design, one centered on the comfort and warmth of simplicity connected to the natural world and one boldly expressing a dramatic and glamorous point of view. Top trends include the Danish concept of "Hygge," mixed metals throughout the home, and moody kitchens featuring dark cabinetry.
"In 2018 home design was very much focused on deep, intense colors, complex textures, darker woods and vintage metals," said Tatiana Machado-Rosas, Design Department Head and Senior Interior Designer at Jackson Design and Remodeling. "In 2019, we'll see a transition towards softer textures, clean neutrals and muted colors, and more fluid furniture pieces. Some home designs will have a distinct connection to the outdoors while maintaining the warm coziness that homeowners desire. Alternatively, some may opt for a bolder approach relying on pops of color and a mix of metallics."
Each December, Jackson Design and Remodeling's highly acclaimed design team, which has been featured in major national print and online publications including Dwell, HGTV and Architectural Digest forecasts the trends they see emerging in design and remodeling for the coming new year. Their top 12 trends for 2019 are:
Art Deco Focus: While Mid-Century Modern has been the darling of the design industry for some time now, we're seeing Art Deco come into the limelight with its signature elegance and glamorous echoes of the Gilded Age. Art Deco's attitude of unabashed opulence is distinctly "Instagram-worthy" from its bold jewel-toned palette to geometric patterns and mixed metal detailing.
Terazzo is back: Versatile terrazzo is amid another resurgence in popularity, infusing character into home elements from backsplashes to flooring. Terrazzo is a speckled material, usually made from small pieces of marble, quartz, glass and other materials that are set in concrete or resin and smoothed down flat.
Moody Kitchens: An alternative to the classic and pure white kitchen, deep navy, green and black cabinetry is setting the mood for darker kitchens in 2019. We will see kitchens with a balance of dark colors and white or dark colors and natural woods.
Bright and Bold Kitchen Islands: On the other end of the spectrum, we're also seeing bright blue and orange kitchen islands making a colorful proclamation. This design idea reimagines ultra-simplicity in favor of a clean and simple space featuring one bright piece with color and pattern.
Danish "Hygge": The Danish concept of "hygge" means creating a warm atmosphere at home and being cozy and content, especially when sharing our homes with others. Interior design with hygge as its guide declutters spaces and fills them with simple, high quality, curated cozy elements while creating a clear connection to the outdoors.
Dramatic Black: Black, especially matte black, is making a fearless artistic statement in kitchens and bedrooms and all throughout the home. Black, like white, never really goes "out of style" but this year we're predicting more imaginative and daring uses of the color.
In Touch with Nature: The alluring pull of escaping a high tech world and connecting to Mother Nature at home is exemplified in some of the colors forecast as this year's most popular. Greens, particularly sage and forest greens, along with colors evocative of clay and terracotta will be particularly prominent. Blues that echo sky and ocean are also on the 2019 color
Soft and Natural Textures: Comfort as a trend shows up again in the popularity of soft materials and textures including suede, leather, and velvet. Elements handmade from woods, stone, and jute sustain the desire to be connected to the natural world at home.
Artisanal and Organic Designs: This "back to basics" approach marries comfort and style with clean neutrals and spaces designed for serenity and human interaction. Balancing simplicity with elegance and highlighting artisanal details with master craftsmanship is key to this design style. Organic natural materials tie it all together.
Mixed Metals: The glimmer and shimmer of metallic accents is welcome in every room of the home in 2019 and mixing it up is the most stylish way to glow. Pair chrome and brass or copper with yellow gold for unexpected sophistication.
Statement Ceilings: Whether it's a pale blue ceiling bringing fresh vitality to a room with all white walls, or bold wood beams bringing architectural definition to a space, ceiling design is challenging its traditional "afterthought" status in exciting ways this year.
Furniture with a Curve: Classic pieces like the sofa are being reimagined with more fluid forms, literally thinking "outside of the box" to create completely new ideas for centerpiece furniture.
To view images of the 2019 design trends, visit Jackson Design and Remodeling on Pinterest.
About Jackson Design and Remodeling
Jackson Design and Remodeling has served the San Diego community since 1989, providing clients with new custom homes, whole home remodeling, kitchen remodeling, additions, outdoor living spaces, high end bathroom remodeling, and other home design build projects. Todd Jackson, President and CEO, has established an enduring tradition of quality and service in the industry. Jackson and his team have won numerous awards for their work, including hundreds of CotY, Chrysalis, ASID, NKBA and Master Design Awards as well as six consecutive Better Business Bureau Torch Awards for Ethics. For more information, visit www.JacksonDesignandRemodeling.com, call 858.348.5195 or follow us on Pinterest, Houzz, Facebook, Instagram and Twitter.