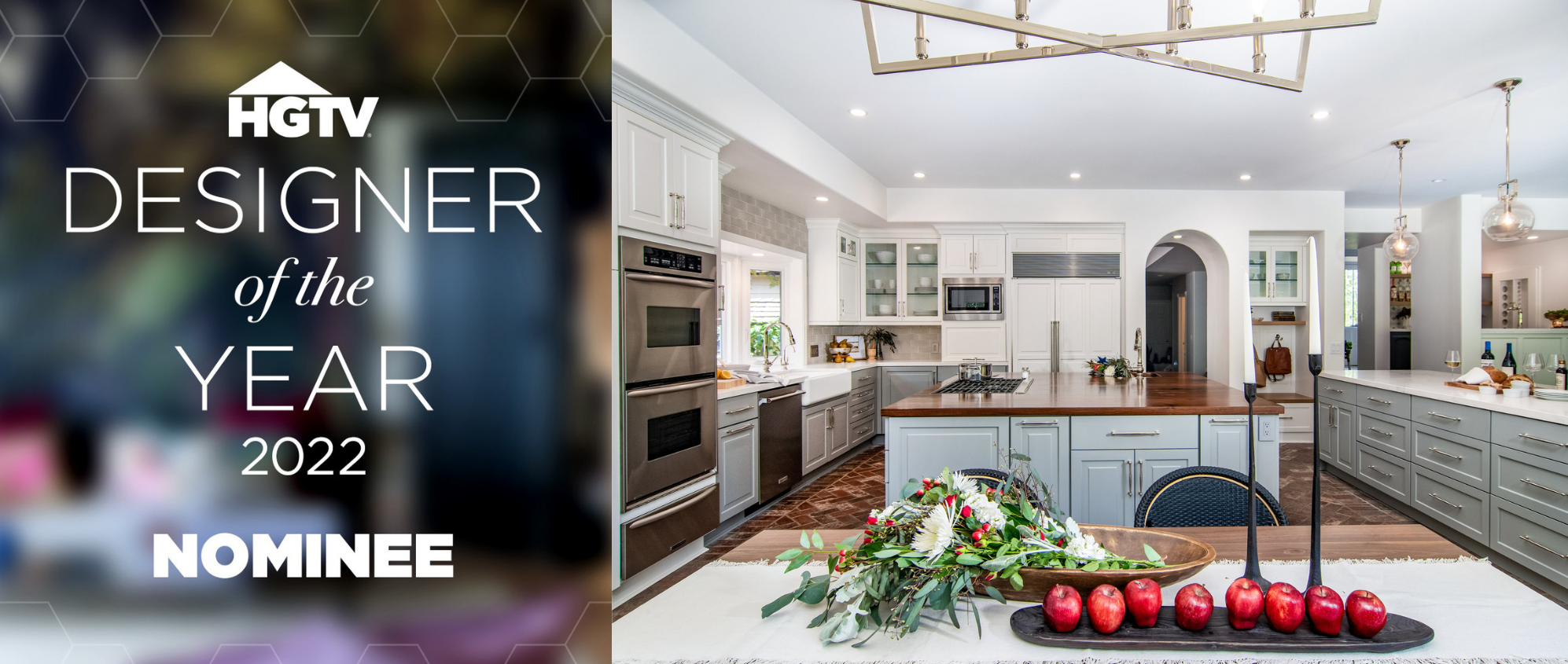 Jackson Design and Remodeling Named Nominee in HGTV's 2022 Designer of the Year Awards
HGTV.com Visitors Can Vote for JDR's Remodel of Rancho Santa Fe Kitchen – a nominee in the "Dramatic Before and Afters" category from Aug. 23 – Sept. 27
(SAN DIEGO – Aug. 23 2022) – Jackson Design and Remodeling (JDR) announced today that HGTV editors have selected the design build firm's Rancho Santa Fe remodel as a nominee in the 2022 HGTV Designer of the Year Awards competition in the category "Dramatic Before and Afters." Voting begins online and the winners are selected by the public beginning Aug. 23 at 9 a.m. EST and ending Sept. 27 at 5 p.m. EST.
HGTV 2022 Designer of the Year Nominee: Rancho Santa Fe Home
Senior Interior Designer Jen Pinto, who is inspired by bringing historical or traditional concepts to life with a modern interpretation, led the JDR team in the design of this home remodel for a young family in Rancho Santa Fe. Evoking classic American Colonial design, the home retains elements of its historically inspired design, including brick flooring and a butcher block countertop, while opening up the space for today's lifestyle. Originally dark and cramped, the kitchen is now bright and expansive with ample cabinetry in gray and white. Multiple windows and doors open to a beautiful backyard and flourishing garden. For a couple who frequently entertain, the bar's intricate copper sink, marble tile backsplash, and open shelving create an elegant focal point. A cheerful and organized laundry room impresses with deep blue cabinetry. Original character and modern style make this stunning space shine. Watch the video tour.
HGTV's Designer of the Year Awards celebrate interior designers, architects and landscape architects who are creating beautiful living spaces. Participating designers compete in six categories: Kitchen and Dining, Color and Pattern, Waterside Retreats, Countryside Escapes, Dramatic Before and Afters, and Living Large in Small Spaces. HGTV editors select six finalists in each category to be voted on by the public. Voters select their favorite project in each category. The projects with the most votes will be awarded the People's Choice award. Finalists can also win the HGTV Editors' Pick award if their project receives the most votes from the HGTV editorial team. The editors will also select one overall winner that will receive a visit by the HGTV team to film videos to be featured on HGTV.com. The Overall Winner will also receive a commemorative certificate and editorial feature on HGTV.com. All Category winners will receive a commemorative certificate and editorial feature on HGTV.com. Winners will be announced Sept. 28 on HGTV.com.
About HGTV
America's leading home and lifestyle brand, HGTV features a top-rated cable network that is distributed to more than 96 million U.S. households and HGTV.com, the premier source for home-related inspiration, instruction and entertainment, attracts more than 6 million people each month. Viewers can become fans of HGTV and interact with other home improvement enthusiasts through Facebook, Twitter, Pinterest and Instagram. Headquartered in Knoxville, Tennessee, HGTV is owned by Scripps Networks Interactive, Inc. (SNI).
About Jackson Design and Remodeling
Jackson Design and Remodeling has served the San Diego community since 1989, providing clients with new homes, whole home remodeling, kitchen remodeling, additions, outdoor living spaces, high end bathroom remodeling and other design build projects. Todd Jackson, President and CEO, has established an enduring tradition of quality and service in the industry. Jackson and his team have won hundreds of awards for their work, including dozens of CotY, Chrysalis, ASID, NKBA and Master Design Awards as well as six consecutive Better Business Bureau Torch Awards for Ethics. For more information, visit JacksonDesignandRemodeling.com, call 858.348.5195 or follow us on Instagram,  Facebook, Houzz, Pinterest, YouTube and Twitter.