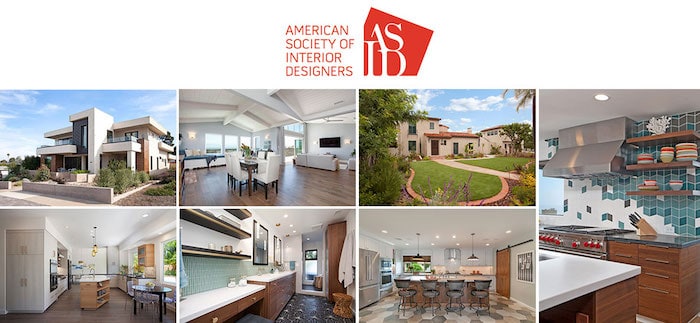 Jackson Design and Remodeling Earns Seven San Diego ASID Design Excellence Awards
The SAG Awards for the Design Industry, JDR's Winning Whole Home, Kitchen and Bath Projects Demonstrate Design Versatility and Breadth of Talent
(SAN DIEGO – September 5, 2018) – Jackson Design and Remodeling (JDR) announced today that it has won seven ASID (American Society of Interior Designers) San Diego Chapter Design Excellence Awards. The ASID Design Excellence Awards program is one of the most distinguished and prominent in the industry and is often compared to the Screen Actors Guild (SAG) awards as both are judged by industry peers. The event celebrates the best San Diego interior designers in more than 20 categories. Three of JDR's Senior Interior Designers earned awards in multiple categories: Tatiana Machado-Rosas, Alison Green and Rosella Gonzalez, each an Allied ASID member.
"Our design team continues to win awards for their ingenuity and attention to detail," said JDR President and CEO Todd Jackson. "In collaboration with other members of our talented in-house team of architects, project managers, design assistants and stylists, our designers create beautiful designs that are uniquely tailored to each client. We are honored that the American Society of Interior Designers recognized a diverse range of our work."
JDR's award-winning projects in the categories of Small Kitchen, Large Bathroom, Universal Design, Large Kitchen, and Residential Spaces include:
After a couple with two teenagers moved to the suburbs, they were surrounded by homes with similar layouts and wanted to dramatically change their kitchen. Large family gatherings are an essential aspect of the couple's lifestyle and they share an appreciation for clean, open, and uncluttered designs with European simplicity. The original kitchen was dark and difficult to navigate, with just one way in and one way out. After adding a small amount of sq. footage near the window in the kitchen, removing a wall between the kitchen and dining room, raising the ceiling, and adding several new windows, this kitchen is now dramatically more functional, open, and full of light.
JDR Design Team: Senior Interior Designer Tatiana Machado-Rosas, Design Assistant Catherine Tran, Residential Designer Jerry Vera
This unique bathroom for a young couple remodeling their home near the ocean is influenced by Mid-Century Modern design with natural elements. The clients decided to forgo a tub to make room for an exceptionally large shower. Reflective surfaces throughout amplify light and make the space feel larger. Calming and visually dynamic, this master bathroom is a memorable retreat.
JDR Design Team: Senior Interior Designer Rosella Gonzalez, Residential Designer John Kavan
The idea for this kitchen started as a husband's desire to give his wife the kitchen of her dreams. The first significant design decision was to move the kitchen from its existing place in the floor plan to the front of the home, replacing a formal living room the clients rarely used, and allowing for an expansive space. A rustic barn door, pendant lighting with an industrial flair, and an apron front sink add farmhouse spirit. The floor is an imaginative pattern of shape and color. Now open to the living and dining areas, this kitchen delights with natural light, interesting textures, and thoughtful design details.
JDR Design Team: Senior Interior Designer Alison Green, Residential Designer David Hall
This home near the ocean was designed and built for a retired couple with the future in mind. The strategic design plan will make it easier to age in place while surrounded by beautiful minimalist design. A ramp on the main entry will accommodate any future accessibility needs. The living area, dining space, and kitchen are integrated in an open and airy design for easy navigation. The kitchen includes extra appliances, an option for aging in place when live-in help may be required. A downstairs bedroom is planned for the possibility of living on one level while an elevator near the stairs provides an alternate method of mobility. The master suite with a kitchenette is ideal when travelling between levels may be inconvenient. The master bathroom's open curbless shower and curved tub provide easy accessibility. The clients now live with a home tailored to their needs and lifestyle today and anticipated in the future.
JDR Design Team: Senior Interior Designer Tatiana Machado-Rosas, Design Assistant Priscilla Jimenez, Residential Designer John Kavan
This rustic kitchen design, recognized as the 2018 Kitchen of the Year by San Diego Home/Garden Lifestyles, is part of the same home remodel that won first place in the Large Bathroom category. The existing space needed significant transformation to achieve the fresh and rustic Mid-Century Modern feeling the clients desired. A dramatic transformation started by removing upper cabinetry and completely redesigning space planning for unobstructed ocean views. The meticulously designed tile backsplash was a joyful collaboration between designer and client. Now open and integrated, the kitchen welcomes cooking and entertaining with ease and style.
JDR Design Team: Senior Interior Designer Rosella Gonzalez, Residential Designer John Kavan
This seaside home was completely transformed to encompass a harmony of elements. The clients shared a love of travel and family and had different style preferences. They desired a more expansive home to welcome family visits and connect to beautiful natural surroundings. Significant construction was required to accomplish the goals of the new design, including adding space and reimagining existing space planning, all within the constraints of a rigorous coastal review process and the challenges of working on a steeply sloped footprint. The home now has vastly improved curb appeal, maximizes natural light, makes views central, comfortably accommodates family, and skillfully blends the styles of husband and wife.
JDR Design Team: Senior Interior Designer Alison Green, Design Assistant Erica Green, Residential Designer Arnold Garza
A young couple with children wanted to dramatically transform their registered historical home, built in 1928 in an "Eclectic Mediterranean" style inspired by Old Hollywood. They wanted to increase the living space, enhance indoor/outdoor living and capture amazing views. Historical registry designation required exacting attention to detail in the architectural planning of this extensive remodel, which doubled the home's existing square footage. Working within these constraints and others, the design is now a stunning extension of a classic design. The home is now ideal for clients who love to express their personalities with color and texture and share their indoor/outdoor lifestyle while entertaining friends and neighbors. In addition to winning an ASID award, this "Colorful Originality" home is currently a nominee in the HGTV Faces of Design contest in the category Color + Pattern. You can vote for this project by clicking on the link above, until 2:00 p.m. PST on Sept. 27, 2018.
JDR Design Team: Senior Interior Designer Alison Green, Design Assistant Erica Green; Residential Designers John Kavan and Denisse Prado-Liendo
About Jackson Design and Remodeling
Jackson Design and Remodeling has served the San Diego community since 1989, providing clients with custom homes, whole home remodeling, kitchen remodeling, room additions, outdoor living spaces, high end bathroom remodeling, and other home redesign projects. Todd Jackson, President and CEO, has established an enduring tradition of quality and service in the remodeling industry. Jackson and his team have won numerous awards for their work, including dozens of CotY, Chrysalis, ASID, NKBA and Master Design Awards as well as six consecutive Better Business Bureau Torch Awards for Ethics. For more information, visitwww.jacksondesignandremodeling.com, call (858) 348-5195 or follow us on Pinterest, Houzz, Facebook,Instagram and Twitter.
About the ASID San Diego Design Excellence Awards
The purpose of the ASID Design Excellence Awards Competition is to recognize and reward outstanding interior design by ASID San Diego Chapter Members, and to encourage and inspire new ideas and showcase innovations in the design and furnishing of interior spaces. Submissions were judged, and winners determined by a committee of ASID Professional Interior Design Members from a neutral ASID Chapter to avoid any conflict of interest. For more information, visit https://casd.asid.org/