October 9, 2020
Revitalizing a Mid-Century Modern Kitchen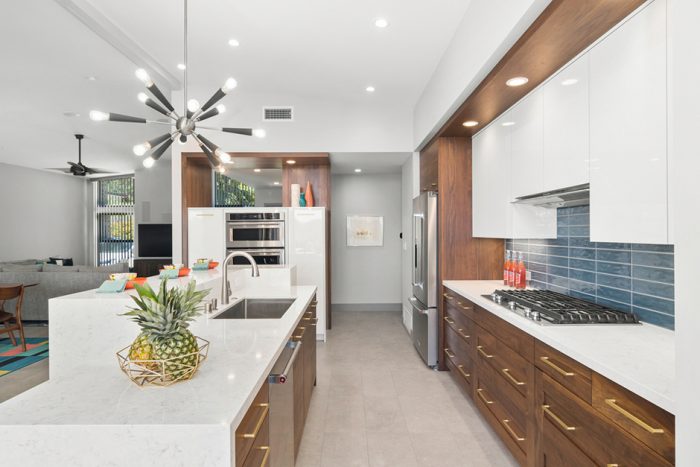 Like many people living in the La Jolla region of California, the clients of designer Gabriel Sepulveda bought their 1960s-dated home because of its canyon views. However, the kitchen was dated, with a U-shaped concept and a column in the middle of the space. "They wanted to entertain, but they were embarrassed about how their home looked," said Sepulveda, who is a senior interior designer at San Diego-based Jackson Design and Remodeling. "They really wanted to be proud of their kitchen."
Undoing Former Mistakes
The home was situated so that the afternoon sun beat down on the kitchen – which also lacked air conditioning – making it unbearably hot at times. There was no functional working triangle, and the original cabinetry barely extended to 7 feet in height, under a ceiling almost twice as high. The cabinets themselves were different – and not complementary – types; these were the result of an unfortunate renovation in the 1980s.
Sepulveda first dropped the ceiling lower and installed new insulation, air conditioning and speakers. The glass blocks – another mistake from the former renovation – hindering the view were removed and replaced with trapezoid windows inspired by the home's origins. The column was then demolished, making the kitchen open to the dining and living room.
"An abundance of natural light, the openness and connectedness of the new design and a focus on canyon views make the home feel open, rejuvenating and serene," said the designer.
Highlighting the Home's Origins
look, an open design and a touch of drama. His original drawing ended up being exactly what the clients wanted.
"This is the first time for me that the clients did not want to change anything," said the designer, who used AutoCAD for his drawings and 3D Studio Max for the rendering. "They liked that every wall had a different point of interest, and nothing about the design was predictable."
To honor the mid-century modern era, Sepulveda juxtaposed rich wood-grain cabinets on one wall with high-gloss white cabinets on the island, over the range and on the wall with the ovens. The muted blue in the subway backsplash was inspired by mid-century modern aesthetics, with a similar white subway tile repeated on the back of the island.
The island itself has two tiers – one for bar seating and one for prepping – to accommodate the clients' entertaining needs. The higher tier of the island has a waterfall countertop on one side and a walnut bookcase on the other for a touch of drama and character.
"The multi-level countertops and waterfalls give the island a sculptural asymmetry and add visual interest," said Sepulveda. "Each end of the island is different, revealing clever uses in material and texture."
Over the island is one of the kitchen's most standout features: a chandelier inspired by the Sputnik satellite. With matte-black stems, exposed bulbs and satin-brass highlights, the light fixture also connects to the kitchen's modern hardware and adds an aspect of surprise to the design.
"It was an exciting challenge to find the ideal balance between honoring the original style of a home's architecture and bringing it into today with modern designs and materials," said Sepulveda.
Senior Interior Designer: Gabriel Sepulveda
Residential Designer: Frank Piermarini
Design Assistant: Carissa Buchner
Interior Stylist: Kathryn Van Groningen
Photographer: Jackson Design and Remodeling