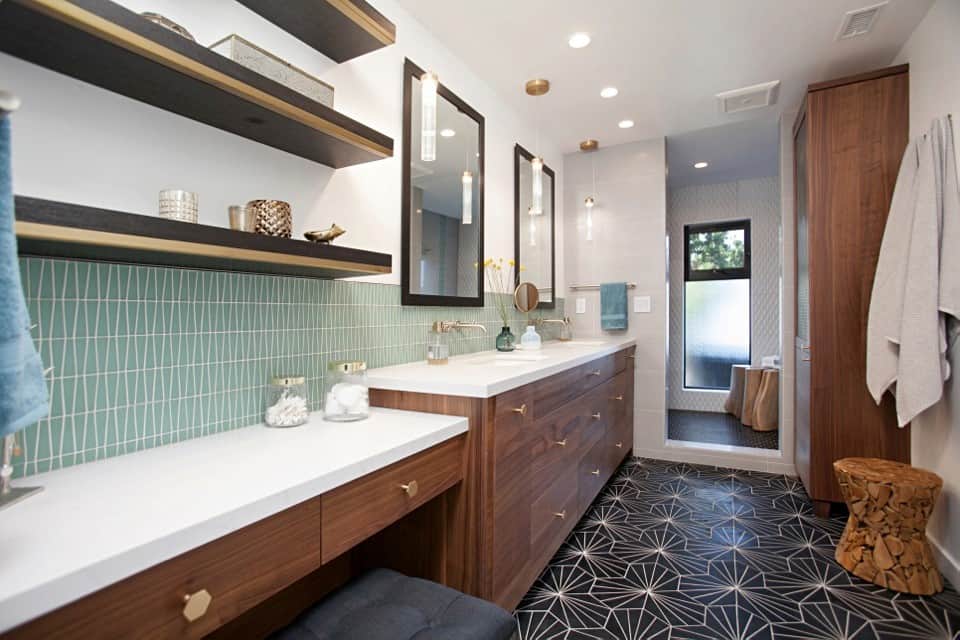 Jackson Design and Remodeling Wins National NKBA Award for Mid-Century Modern Bathroom that Continues to 'Wow' Design Industry
Presented during the 2019 Kitchen and Bath Industry Show, the NKBA Award Follows a First Place ASID Award and Bath of the Year Distinction
(SAN DIEGO –March 5, 2019) – Jackson Design and Remodeling (JDR), an award-winning San Diego-based design build remodeling firm, announced today that the company has received yet
another major recognition for a San Diego master bathroom. The Mid-Century Modern inspired bathroom with natural and rustic elements won a national NKBA award at the 2019 Kitchen and Bath Industry show, which took place February 18-21 in Las Vegas. The national win comes on the heels of a first-place ASID (American Society of Interior Designers) San Diego Design Excellence Award and its distinction as a "Bath of the Year" from San Diego Home/Garden Lifestyles Magazine.
Designed by JDR's Senior Interior Designer Rosella Gonzalez, this tranquil retreat is for a young couple who remodeled their home near the ocean. The space balances a stunning combination of patterned tile, interesting textures, gleaming metallics, and a color palette that is both calming and visually dynamic. The clients decided to forgo a tub to make room for an exceptionally large shower. Reflective surfaces throughout amplify light, bringing attention to meticulous design details.
"We are excited that this master bath has become such a favorite this year," said JDR President and CEO Todd Jackson. "It's always satisfying when a design that makes our clients very happy also impresses the public, judges, and industry peers."
About the NKBA Awards
The 2019 NKBA awards entries were judged on the following five core areas: Creativity, Presentation, Design Planning, Elements & Principles, Safety & Ergonomics. At least two of the industry experts selected to judge was either a Certified Master Kitchen & Bath Designer (CMKBD®) a Certified Kitchen Designer (CKD®). a Certified Bath Designer (CBD®), or a
Certified Kitchen & Bath Designer (CKBD®). NKBA award winners were announced at a special awards ceremony Monday evening, February 18, leading into the 2019 KBIS tradeshow in Las Vegas Feb. 18-21.

About the NKBA
The National Kitchen + Bath Association (NKBA) is a non-profit trade group that promotes professionalism in the kitchen and bath industry. Established in 1963 as a network of kitchen dealers, it has evolved into the premier association of designers, retailers, remodelers, manufacturers, distributors, fabricators, installers and other industry professionals. With nearly 14,000 member companies representing tens of thousands of members in all segments of the kitchen and bath industry, the NKBA envisions a world where everyone enjoys safe, beautiful and functional kitchen and bath spaces.
About Jackson Design and Remodeling
Jackson Design and Remodeling has served the San Diego community for 30 years, providing clients with new homes, whole home remodeling, kitchen remodeling, additions, outdoor living spaces, high end bathroom remodeling, and other design build projects. Todd Jackson, President and CEO, has established an enduring tradition of quality and service in the industry. Jackson and his team have won hundreds of awards for their work, including dozens of CotY, Chrysalis, ASID, NKBA and Master Design Awards as well as six consecutive Better Business Bureau Torch Awards for Ethics. For more information, visit JacksonDesignandRemodeling.com, call 858.348.5195 or follow us on Pinterest, Houzz, Facebook, Instagram and Twitter.