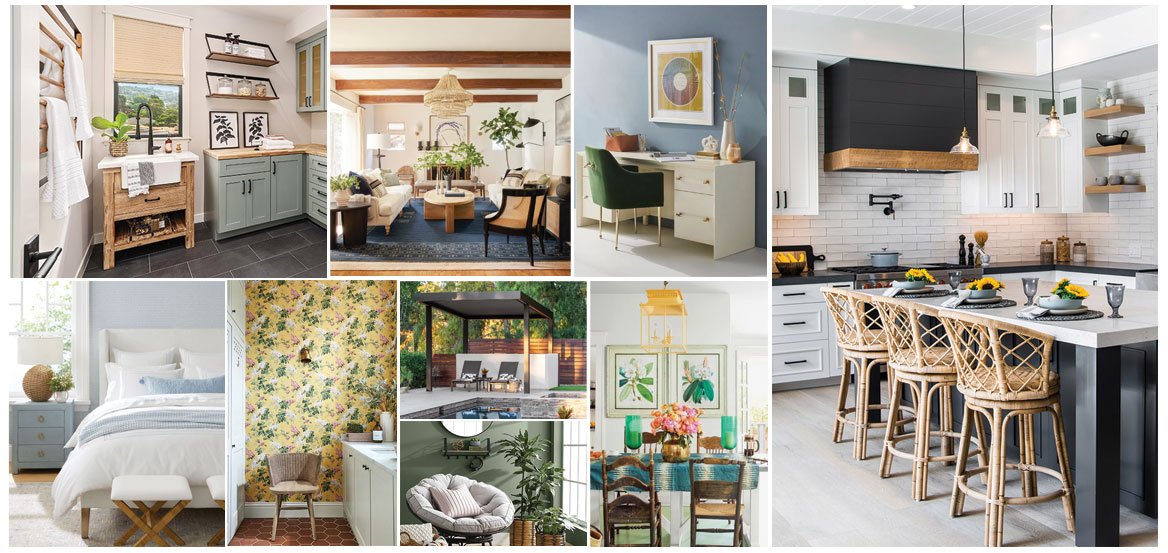 Top 10 Design Trends for 2022: Jackson Design and Remodeling Predicts 70s Style, Green Galore, and Nature-Inspired Elements
The Award-Winning JDR Design Team Forecasts Top Home Design Ideas for the Year Ahead
(SAN DIEGO, Calif. – November 24, 2021) – Today, Jackson Design and Remodeling – an award-winning, design build remodeling firm based in San Diego – released its annual list of the top design trends. Every autumn, Jackson Design and Remodeling's highly acclaimed design team, which has been featured in major national print and online publications including The Wall Street Journal, HGTV, Dream Kitchens & Baths, USA Today, Dwell, Architectural Digest, French Style, Cottages & Bungalows, and Beautiful Kitchens & Baths, previews the trends they see emerging in design and remodeling for the coming new year.
According to the team, led by Senior Interior Designer and Department Head Tatiana Machado-Rosas, 2022 will be a year of expressing nostalgia for elements of decades past, particularly the 1970s, while also expanding on the trend of embracing nature through botanical prints, organic and reclaimed materials, and earthy finishes.
A connected and stylish home office is now a firmly established "must-have," and JDR expects to see a strengthening of the desire for multi-purpose spaces that emerged in 2021.
"The pandemic changed how we use our homes," said JDR President and CEO Todd Jackson. "And as working from home is here to stay, we'll see a growing need for functional office space as well as distinct spaces for homework, play, hobbies and crafts. We'll also see a trend of elevated outdoor areas, with outdoor kitchens, sheltered seating and dining areas, weather-adaptable features like louvered roofs with a range of technology, and enhanced lighting and heating elements."
Another significant direction the team foresees is a surge in multi-family and extended family living, as parents move in with their grown children and vice versa.
"Accessory dwelling units and in-law suites will continue to be in demand, as well as a desire for aging-in-place friendly design features," said Machado-Rosas.
Following is the list of the Top 10 2022 Design Trends, curated by the JDR team.
1. The 70s Reimagined
From the reemergence of avocado green and harvest gold hues to elements like velvet couches, macrame, and rattan, the era of boho and disco is making a big comeback.
2. Botanical is Blooming
Related to the 1970s trend when it was also popular, botanical decor is popping up in everything from wallpaper and art to throw pillows and rugs. Floral and plant-based prints are a cheerful way to connect our homes to the outdoors.
3. Farmhouse Forever
Farmhouse style will endure, particularly in kitchens, where its warm and cozy vibe influences the space where most of us spend the majority of our time at home.
4. Green Galore
Whether it's serene and hopeful sage, warm and earthy olive, or a deep and stimulating jewel-tone, green is showing up everywhere as the dominant color of 2022. Green, calming and familiar while also linked to nature and growth, is a flexible color with limitless possibilities.
5. Inside Outside
After last year's understandable inclination to expand our homes to embrace outdoor living, the trend continues this year with the focus on maximizing comfort. Spaces that feel like they could be indoors – from roomy, comfortable furniture to elements that add light, heat, and protection from the elements – redefine the meaning of "indoor" and "outdoor."
6. Make it Organic and Natural
Natural materials continue to grow in popularity this year, with an emphasis on rustic textures that are discernibly handmade. Natural stone sinks and countertops are making a statement in many 2022 kitchens, along with natural and reclaimed woods.
7. Or, Make it Bold and Unusual
Statement-making materials like industrial-style cogent steel, burnt wood, and distressed texture tile allow for imaginative expression in the details of your home.
8. WFH Elevated
Strictly 9-5 office hours are a thing of the past for many in the workforce and chances are this trend will stay with us for some time to come. A polished and professional workspace that functions well and looks great both in-person and on-camera is a necessity.
9. A Room for All Reasons
Speaking of working from home, the 2021 interest in multi-purpose spaces persists into 2022. With people sharing their homes for work, studying, cooking, eating, exercising, and relaxing, flexible spaces that can easily be used for different purposes make our homes feel more comfortable and efficient.
10. Generations Living Together
A 2019 survey found that 41% of Americans buying a home were considering accommodating an elderly parent or an adult child. Interest continues to grow in ADUs, strengthened by last year's desire to have family closer to home in challenging times.
Follow JDR on Pinterest to see examples of 2022 trends and keep an eye on interior design news all year long.
About Jackson Design and Remodeling
Jackson Design and Remodeling has served the San Diego community since 1989, providing clients with new homes, whole home remodeling, kitchen remodeling, additions, outdoor living spaces, high end bathroom remodeling, and other design build projects. Todd Jackson, President and CEO, has established an enduring tradition of quality and service in the industry. Jackson and his team have won hundreds of awards for their work, including dozens of CotY, Chrysalis, ASID, NKBA and Master Design Awards as well as six consecutive Better Business Bureau Torch Awards for Ethics. For more information, visit JacksonDesignandRemodeling.com, call 858.348.5195 or follow us on Pinterest, Houzz, Facebook, Instagram and Twitter.