Summer Solstice: Expand Indoor/Outdoor Living for Your Whole Home Remodel or New Home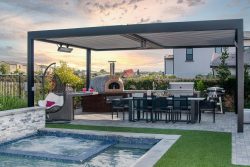 The first day of summer shines a light on how your home integrates outdoor living. With the season's longer days, warmer evenings, and slower schedules, an inspired indoor/outdoor living design for your whole home remodel or new home can transform your lifestyle for relaxing and entertaining.
Here are some elements to consider:
Space Planning
Give some thought to how you will most often use your outdoor space and if you are dreaming about adding a significant element such as a pool or an outdoor kitchen. The more planning in the beginning of a design, the smoother the process, and the more satisfying the result. Our professional designers help you determine the elements and functionality you need to arrive at the most effective layout.
Expansive Entertaining
Easy navigation between your interior and exterior is essential when you entertain outdoors. Determine the size of your grill and other tools you may elect to include in your outdoor kitchen area based on how often you entertain and the size of your typical party. You may want to include a bar area in addition to generous and diverse seating areas.
Adaptable Comfort
Planning a design that works year-round gives you maximum enjoyment from your space. Accommodate for sun and shade and for day and nighttime enjoyment by integrating elements such as a louvered roof, retractable shades, water elements, heat and lighting, and fireplaces and firepits.
Summer's longer days are a joy in your own backyard! A unified team of architects, designers and construction professionals can guide you through the process of imagining how you will use your outdoor living space and what design elements will most enhance your lifestyle through every season in your new home or whole home remodel.