A creative couple wanted a kitchen with modern functionality that honored the character of their 1920s Spanish-style home. Their award-winning new kitchen stimulates the senses, expresses the clients' diverse cultural interests and embodies their independent spirits.
More Contemporary Transitional Kitchens
Natural Modern Kitchen
Vivid Modern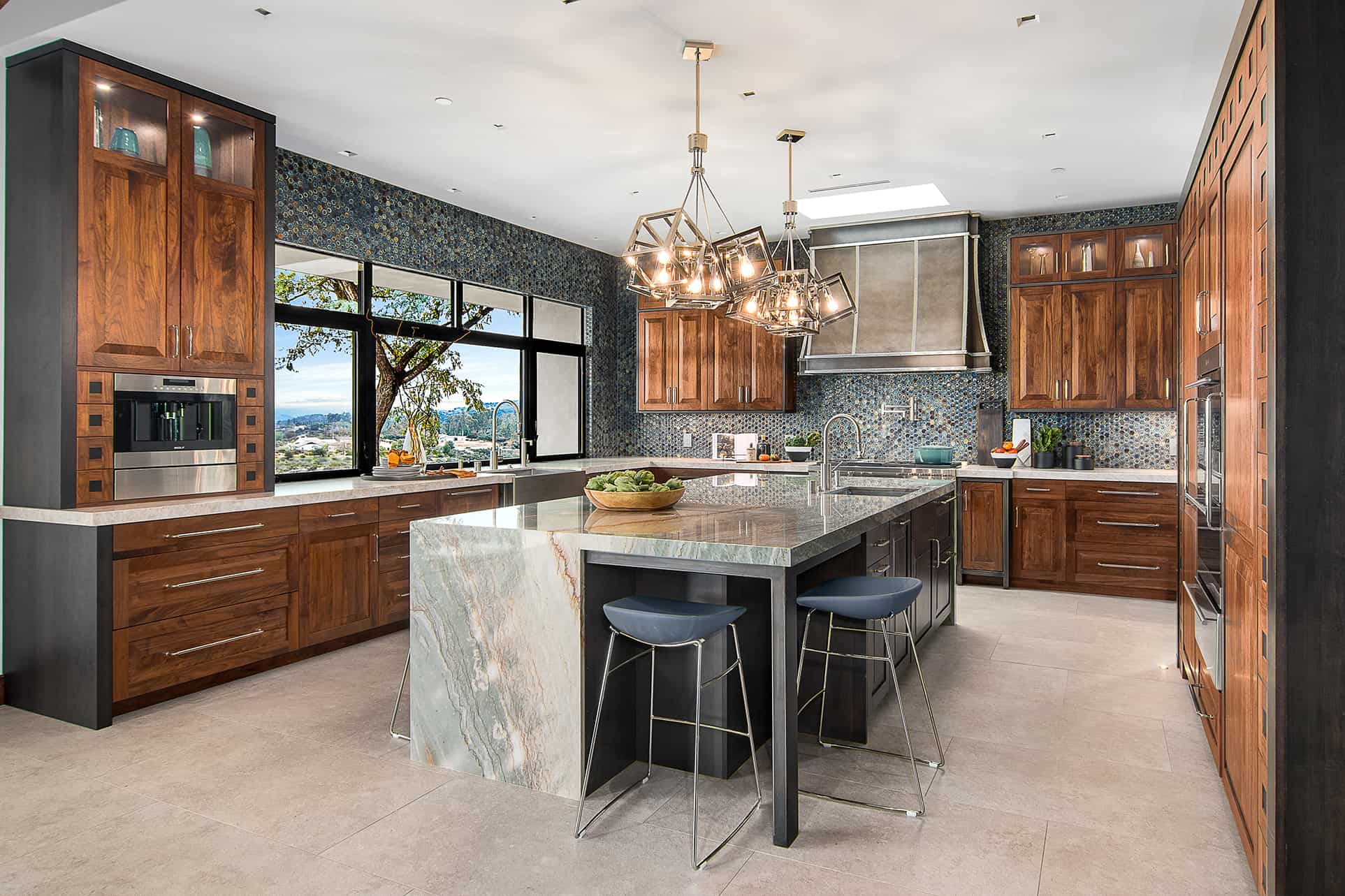 Luxurious Contemporary Craftsman
Sophisticated Beach Classic
Uniquely Bold Kitchen
Modern Angle
Brilliant Mod
Creative Modern Farmhouse
PROJECT SUMMARY
A creative couple wanted a new kitchen with modern functionality that honored the original character of their 1920s Spanish-style home. They wanted the kitchen to stimulate their senses, express their diverse cultural interests and embody their independent spirits. An unusually large island was created as a centerpiece unifying unexpected materials, bold colors and modern style, along with practical functionality.
Space planning visually connects the kitchen with the rest of the home, creating an open line of sight from the back to the front and suffusing the area in natural light. A medley of accessories such as a glass chandelier and patterned plates were carefully selected to express the clients' interests. A new beam was added to pair with an existing beam as a balancing architectural element.
Cabinets in darkly stained cherry wood against vibrant walls create exciting visual depth and richness in a kitchen that artfully integrates eclectic elements.
THIS PROJECT HAS WON THE FOLLOWING AWARDS
American Society of Interior Designers (ASID) 2nd Place 2012 Kitchens
Visit Our Design Campus
The Premier Kitchen & Bathroom Showroom and Selection Center in San Diego
Learn about the latest trends in design build as you see and touch examples of the design sense, craftsmanship and thoughtful client care that go into all of our work.
Hours
Monday - Friday
8:00am - 4:30pm
Saturday: Visit Our Selection Center
10:00am-3:00pm
Let us help you with your remodel or new build!