Room to Breathe … Find Peace in a Specialty Room for Your Whole Home Remodel
Whether your source of serenity is yoga, collecting, or a private space to create art, our team of professional designers can help you visualize the ideal specialty room for your whole home remodel that lets you find your peace and comfort without having to leave the house. Here are just a few examples of spaces we've created.
Yoga Room
For a client dedicated to a daily yoga practice, this sunny and spacious room open to an outdoor living space allows her to fit an essential element of her wellness routine into a busy schedule.
Gentleman's Room
This room in a 100-year old home was built with devoted attention to period detail with space for the gentleman of the house to store, appreciate and care for his collection of guns and other treasured objects. Entering this gentleman's room with no modern technology but a dedicated attention to period detail and comfort feels like stepping back in time.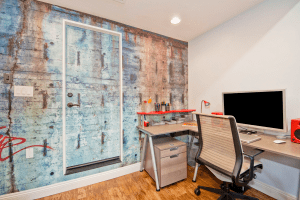 Garage Studio
This garage in a beachside home was custom designed for extra storage and living space with an area dedicated to creating art and music. An edgy urban scene from the Brooklyn Bridge is recreated in wallpaper bringing unique inspiration to the space.
Working with our unified team of architects, designers and construction professionals, you can explore ways to create individual spaces in your whole home remodel to enhance your lifestyle everyday. Keeping up a fitness regiment, having private space to enjoy a hobby or read a favorite book, can be more comfortable and enjoyable with a whole home remodel designed for your specific needs and desires.